Janna's Quest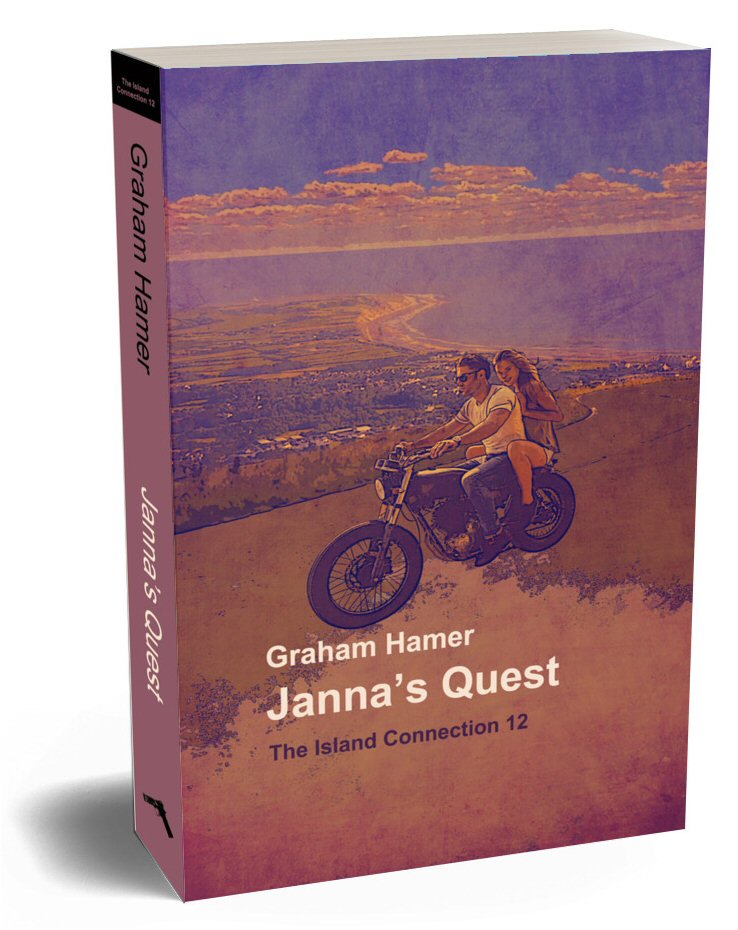 Janna is fourteen going on twenty-four. She is tall and athletic and sharp as a razor. But her grandfather has gone missing and Janna makes it her business to try and find him. She is helped by Oddball, an old friend of her parents. Oddball is forty-six and drives an1100cc Ducati Panigale the same way that he lives his life – fast and dangerous. Their partnership develops into a mutual quest to find Janna's grandfather – though maybe it's already too late.
Meanwhile, sexy thirty-year-old Gabrielle Kay, is busy making love to, and making money with, Brian Shuttleworth, leader of the Cornerstone Evangelical Church. But her sister has other plans which threaten their illegal business venture. Not that her sister cares for the law – she just struggles with reality at times. And be sure to keep an eye on Paddy Quirk posing as Snorker Dingwallace. It's Paddy's actions that will end in death. But who's and how?
While all this is going on, Fergus is occupied in the arms of Alisha or Carla, or sometimes both, at The Foundation – a sort of upmarket hippy, happy-tappy, anything-goes establishment on the beautiful east coast of the island. None of them are teenagers any longer, but that doesn't stop them living life to the full and beyond. Fergus is happy making the best of the situation, because he knows that it cannot last, and he will soon have a decision to make about his future.
Janna's Quest is a mad romp that takes you round the Isle of Man following the clues and the characters as they struggle to fulfil their individual goals and desires.
JANNA'S QUEST
"But I'm not late. I just asked for more time to pay."
"That's quite irrelevant. It's not a question you should have even considered asking. Payment in full by Tuesday. If you are unable to agree to those terms, you might find it somewhat more distressing than the discomfort you are experiencing at present. Battery grips on the testicles are a rather unpleasant way of making a point. Particularly when my colleague plugs them into the mains supply. Apart from the crippling pain, you would be impotent for the rest of your days. I can't convince you to get your head straight, but Davy can. Davy has a special gift for persuasive discussion, don't you, Davy?"
"Yeah, whatever you said, Marcus."
"But please give me another week. I can get the money. I just need to arrange finance. We have property that we can use as collateral."
"You're not listening, is he Davy?"
"He's not listening, Marcus."
"Ankle, please," Marcus said.
Davy brought his foot down on Brian Shuttleworth's ankle. There was an unpleasant crack, which nobody heard above the scream of the victim as he reacted to the gut-wrenching pain that shot up his leg to his hip.
"What you just broke was his tibia," Marcus said, "not his ankle."
"Tibia?"
"His leg"
"Same thing isn't it?"
"No. You know where an ankle is, Davy. Now do it right please. I like to maintain standards."
Davy did it right, and Brian Shuttleworth passed out.
Book cover design by Bruno Cavellec, Copyright © Bruno Cavellec 2021.
Image used and published according to the licence granted by the artist