Odd Gets Even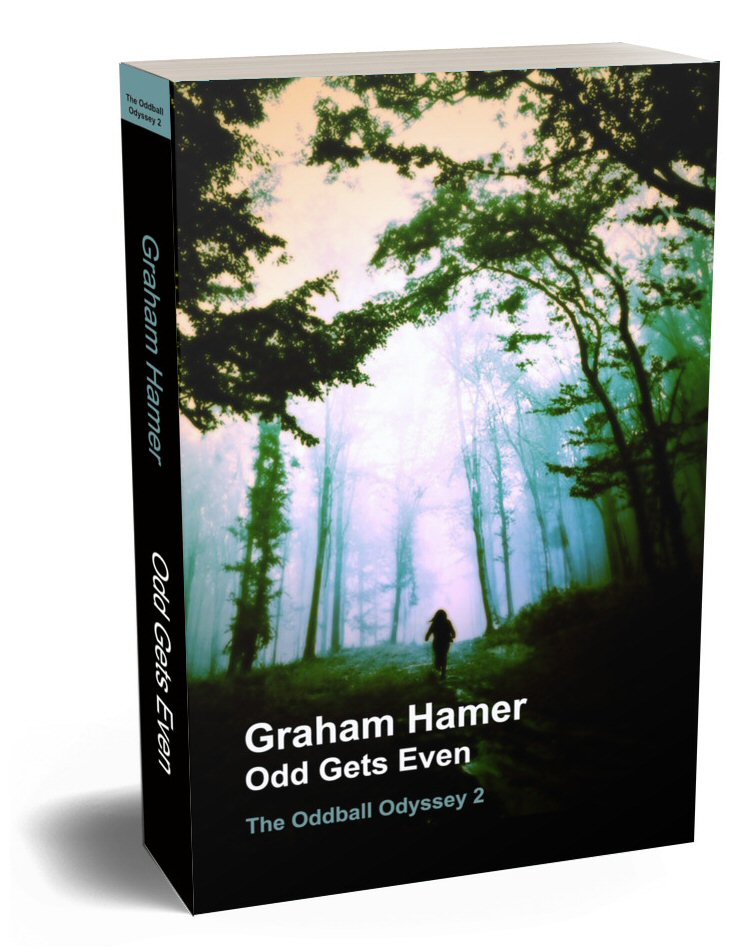 In Odd Gets Even, someone is murdering Oddball's former regimental buddies and it seems like the whole platoon has been targeted. Oddball teams up again with what remains of the platoon. They need to find the culprits and have a quiet word in their ears. They also need to find out who's bankrolling the killers. However, one of the thugs makes himself known when he targets the wife of one of the old team. But he underestimated her reaction.
Oddball enlists master hacker Harry Lewis – real name Harriet – who has the social skills of an angry porcupine but is as sharp as a winter's morning when it comes to breaking through firewalls and uncovering secrets. Harry's personal space is normally defended with alarms, barbed wire and motion sensors. But she drops her guard when she meets Danny Nightly, a Special Forces veteran who was sacrificed as a political pawn.
Meanwhile, twelve-year-old Mara Starling is not about to accept that she's been kidnapped. You don't kidnap Mara and get away with it. But she doesn't realise that, when she escapes, the danger is only going to get worse.
ODD GETS EVEN
It was late afternoon the following day before Oddball and Danny arrived. Sarah was still at work at police headquarters in Douglas seven miles away. Ken Stafford wasn't going to be there. Seemed he and his wife, Florence, were enjoying some time together on the beaches of Thailand. Sparky shook hands as they stepped into the cottage. Oddball and Danny threw their coats over the back of a dining chair and grabbed the two comfy armchairs in the lounge area of the room. "Get us a brew will you, Sparky? While you're up."
"A tea?"
"Yeah," Oddball said, "We're going to have a civilised chat and you can't have a civilised chat without tea and biscuits." He glanced towards a kettle on the worktop. "We need a tea. You've got a kettle, so we need a tea, and seeing as you possess the best tea-making skills of the three of us, you have our vote for tea maker of the year. The man of the hour goes to you."
"And chokkie biscuits?" Danny Nightly added.
Sparky stepped back into wrap-around kitchen, muttering to himself. "Hold on, mate," said Oddball. "Danny, how do you like it?"
"Like it?"
"Tea, Danny. Tea."
"Oh, tea. White, please."
"White," Oddball said. "You want sugar, Danny?"
"Yeah, go ahead and have a sugar," Sparky added in a sarcastic tone.

"Oh go on then. One please," Danny said, doing his best not to smirk. "And chokkie biscuits, don't forget."

"So, let's get this straight," Oddball said. "One cup of steaming-hot tea, white with one sugar. You got that, Sparky?"

"It's not rocket science," Sparky replied. He turned back into the kitchen area and flicked on the kettle. "What about you, Oddball? You want tea?"

"Please."

"Would that be with a cloud of milk and one sugar by any chance?" Sparky asked.

"No, I can't have this," Oddball exclaimed. "I tell you how many sugars I want after we've haggled and bickered for at least ten minutes. Please don't ruin years of tradition."
"Well is it?"
"Yes, but you aren't playing the game, Sparky, are you?"

"You want to go through the same silly rigmarole, or just take it the same as usual."

"Same as usual, please," Oddball said with a pout. "But it seems to me you're not respecting protocol. You realise the British Empire was forged on good tea, Sparky. We need to remember that."

"Yeah, I know," Sparky answered, as he reached into a cupboard for the tea bags. "I remember the time Alfred the Great stopped killing all the Vikings and made them tea instead. They all quit fighting, sat down, and had a nice brew and a chat. Then the big ugly Viking pulled his blood-soaked sword out of a woad-coated Englishman he'd just killed by accident and produced a packet of custard creams from his pocket."

"That might be taking it a bit too far," Oddball said.

"Yeah, a bit far that, Sparky," said Danny. "Vikings used to like bourbons, mate, not custard creams. I, on the other hand, am partial to a chokkie biscuit."

"Who'd have guessed?"

Oddball and Danny chuckled to themselves while Sparky shook his head and focused on the mugs and the kettle. The old banter came back easily to these three friends who had fought shoulder-to-shoulder around the world.

Book cover design by Bruno Cavellec, Copyright © Bruno Cavellec 2020.
Image used and published according to the licence granted by the artist