Tommy Gee's Long Weekend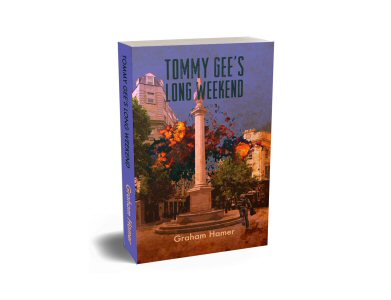 Tommy Gee's Long Weekend begins one year after borrowing a healthy sum of money from the Eastern European mob. Tommy and his girlfriend Vicki decide to spend a long weekend in London, looking for antiques, enjoying the sights, and catching up with Tommy's old school friend, Andy.

Saturday morning starts well, but the afternoon goes rapidly downhill. Vicki is kidnapped and Tommy is persuaded to undertake 'a little service' for a middle-eastern man, in return for Vicki's safety.

Things go from bad to worse, as often seems to be the case where Tommy Gee is concerned. An explosion that leaves behind almost 150 dead bodies is not Tommy's fault, but it looks that way. He is, after all, a magnet for chaos and the unpredictable.

Oddball, Saxon and Harry from the secret agency known as N2K are authorised to use any means to find the source of the explosion. Tommy, being a professional blaster, becomes the prime suspect – and now he's on the run, with only his friend Andy to turn to.

Meanwhile, Vicki finds herself locked in a disused workshop, guarded by a man-mountain with a limited vocabulary and an even more limited capacity to think. Vicki is a resourceful lady, but she feels powerless to improve her situation.

If you enjoy a gripping plot, thrilling action, and characters you can feel, then sit back and hold on tight. Tommy Gee has once more come to town.
TOMMY GEE'S LONG WEEKEND
As the dust thinned and the air began to clear, Tommy had to marshal his inner drill sergeant. His sergeant's yelling in his head got him to his knees, then, wobbling like a new born foal, to his feet. He felt like a stampede of wild buffalo had trampled over him. A deathly silence had taken over from the earlier screams. As he looked around, he realised just how lucky he was. The pavement where he had been at the moment of the explosion was covered in bricks and masonry, thrown there by the force of the blast less than fifty metres away. Only the fact that he had been blown backwards into the shelter of the theatre's recessed entrance had saved him from serious injury or even death. The Ford Focus he had arrived in, like many others cars, was battered and smashed by stone and brick.

A few people groaned and stirred, but others lay unmoving right across Seven Dials. Many were coated in their own blood. Others, Tommy could see, had had limbs torn from them; their blood splattered up the walls of the nearest buildings. He forced himself to breathe deep. Slow and stable. Swallow back the vomit in his throat. Being a blaster by trade, he knew the damage that an explosion could cause, but this was big. This was more than a kilo of explosives to remove a stubborn tree root. Much, much more.

As his head began to clear, the sound of approaching sirens stirred him into action. The last place Tommy wanted to be right now was in Seven Dials which would, at any moment, be swarming with armed police. He needed to somehow rescue Vicki, and he wouldn't be able to do it from inside a police interview room. The backpack from the car lay a few metres away, covered in dust. Somewhere, somehow, that was part of the puzzle – and maybe part of the answer. Tommy hoisted it onto his shoulder and hobbled away towards Short's Gardens because that road seemed to be the least blocked. He hadn't gone more than ten steps when he stumbled and nearly fell over something he'd not spotted. He picked up both himself and the object, and then dropped it like it was red hot. It was the missing arm of the black man. Covered in white dust, but an arm nonetheless, with a hand at one end and a bloody stump at the other.
Book cover design by Bruno Cavellec, Copyright © Bruno Cavellec 2021.
Image used and published according to the licence granted by the artist