On Whom the Axe Falls – 'The Island Connection 3'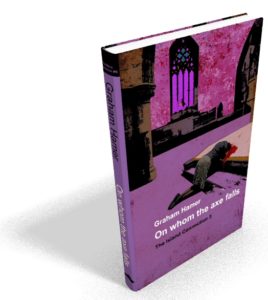 'On Whom the Axe Falls' takes a look at what happens when two people with diametrically opposed views are both suspected of murder. Either one could be the killer. Both have the motive and the means and neither man is apologetic for his stance. Meanwhile, one of our regular characters is being stalked by an old antagonist whilst another old friend suddenly discovers romance and finds that there's magic in the air. Nothing is ever quite what it seems on the Isle of Man!
ON WHOM THE AXE FALLS – OPENING PAGES
When he left his cottage to pick a few vegetables from his garden, Reverend Aloicius Quayle hadn't intended lying face down on the cold earth with the morning sun on the back of his head and a vine of runner beans crushed under his chest; but then he probably hadn't intended to have a twenty centimetre bone handled brushed stainless steel Laguiole knife stuck in his lower back either.

The Reverend had been a good, pious man, his widow explained to Detective Inspector Angus Slooth. Aloicius was devout, devoted and divine, she had sobbed, blowing her nose into a handkerchief embroidered round the edges with pixies and fairies.

Angus Slooth nodded solemnly as Widow Quayle expounded her opinion of the rectitude and righteousness of the man of God who, until an hour ago, had been her faithful husband. Angus and Detective Constable Sarah Flemons had already run through all the normal questions about Aloicius Quayle's actions prior to leaving the safety of his house, and they had, though probably quite unnecessarily, ticked all the boxes regarding Marjory Quayle's whereabouts and motives, though it never did any harm to double check these things, particularly when your only witness was a lady who was clearly in the early stages of dementia – or at least severe age-related forgetfulness.

Another excellent addition to 'The Manx Connection' series
By mousyb on 21 Aug. 2016
Book 5 of 'The Manx Connection' is located on The Isle of Man (as are most of the series). It features some of the characters (DI Angus Slooth and DC Sarah Flemons) who have appeared in earlier books in the series, but each book is stand alone.
The storyline of 'On whom the axe falls' is one of murders motivated by religion. In this story, Angus Slooth and Sarah Flemons struggle to solve the clues that are liberally sprinkled about.
It is also a book full of surprises, not the least of which is when Angus meets … oh no – I can't tell you otherwise it wouldn't be a surprise, would it?
Apart from being an action-packed mystery, Graham Hamer uses the plot to explore the effects of religious extremism in a small island community. Of course, as an author, many of his own views are expressed, but that's his prerogative and it doesn't detract from the story. In fact, in many ways, it becomes the driving force for the storyline and few would disagree with his conclusions.
Another excellent addition to 'The Manx Connection' series. Can't wait to get my hands on the next one.

A very enjoyable crime mystery with leading characters that you …
By Lesley Cowin August 13, 2017
A very enjoyable crime mystery with leading characters that you really care about. The villains, when identified, are dealt with in a satisfactory manner.
Book cover design by Bruno Cavellec, Copyright © Bruno Cavellec 2016.
Image used and published according to the licence granted by the artist