STAGE EXIT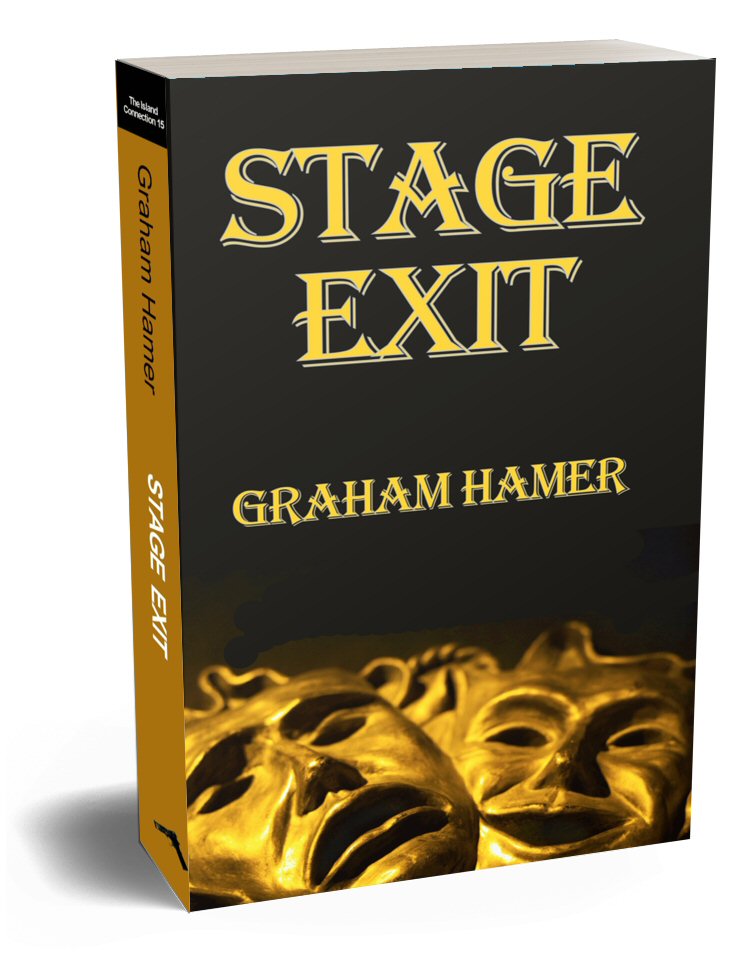 In the Isle of Man's Gaiety Theatre, Lenny Barlow is bludgeoned to death with a baseball bat in the men's toilets. But who's doing the killing? And why?

Police officers Hannah Davis and Frankie MacEwen are left to investigate on their own as their detective inspector, Des Cartwright, slides deeper and deeper into an alcohol-fuelled haze. His alcohol consumption increases even more when he discovers that the victim was a visiting American film studio owner.

In the theatre, the actors are struggling with the script. It's a dramatization of Cordelia Armstrong's best-selling novel, 'The Death of Logic', but things are not going well. A story of intrigue and hidden agendas. People are seldom who they seem to be. Scores have to be settled. Eventually, the two police women discover who the killer is. But is it going to cost one of them her life also? There' only one way for you to find out…
STAGE EXIT
The theatre caretaker, Charlie Wood, sauntered away, looking as interested as a fish swimming slow circles in its bowl. A fit man of twenty-eight, Charlie could have bounced up the six carpeted steps that led into the main auditorium like an athlete, but a bit of disrespect for this loud-mouthed American was fine in his book. At the top of the short flight, he turned, "Sorry, what was the name again?"
"You know goddam well what it is. Barlow. Lenny Barlow. And don't forget to remind him I own LSB Studios in Hollywood."
Charlie nodded. "Barlow. LSB Studios," he repeated out loud, like Lenny was a nobody. He ambled away, out of sight.
Lenny tutted and hitched up his trousers. "Bloody amateur," he muttered to himself. "No wonder he's a friggin' failure. The whole fuckin' place is staffed by failures." As far as Lenny Barlow was concerned, the caretaker was like many other irrelevant people he met every day. Just some generic face like a thousand other generic faces that passed through his life. Another wannabe in a world full of wannabes. "The Isle of Man," he sighed to himself. "What a shit heap. Fuckin' god-forsaken pissy little place in the middle of the fuckin' Irish sea and they have to launch 'The Death of Logic' here. Thirty-five miles by ten. Christ, the whole damn island is only half the size of Los Angeles. Goddam bunch of poncy limeys."
After a few minutes muttering to himself while he paced across the tiles of the theatre's spacious entrance foyer, Lenny decided to take matters into his own hands. He climbed the short but wide flight of steps, following the direction the doorman had taken. He heard voices and headed towards the sounds. In moments, he found himself in the side aisle of the main auditorium. The theatre stopped him dead as he scanned his surroundings. Even he had to admit it was impressive. He'd read up on The Gaiety during the flight over from Stateside. In this case though, the reality was better than the write-up.
The Gaiety Theatre was the sort of place that Lenny had always imagined a theatre should look like. The nearest he'd ever seen to it were the historical photos of the Mercury Theatre in New York in 1937. Gilt columns and plush curtains to the private boxes. Three tiers of balconies. Gold scroll-work and sconces. The tall columnar folds of the drapes on either side of the stage. And a grand, glazed cupola high up in the vaulted ceiling. Lenny wasn't in awe of much in life, except his own success, yet his first impressions of the Gaiety Theatre came close to a 'Wow' moment. The place was quaint in a very British sort of way… but way too small to make any real money. And wasn't that all that really mattered?
The theatre thrummed with noise as technicians, props staff, and actors scrambled to get their work done before commencing the dress rehearsal. There was no shouting like Lenny was used to hearing on a film set, just the constant buzz and bumble of people talking, asking, explaining and instructing.
"What are you doing here?" a voice called out. "I asked you to wait in the foyer."
Lenny gave the doorman his best smile, like a shark spotting a tasty meal. "Just did a little exploring while I waited for you."