Web of Tangled Blood -'The French Collection #1'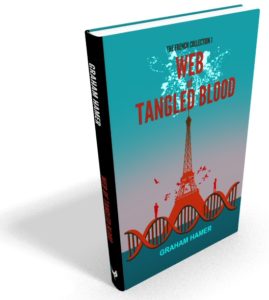 Web of Tangled Blood stretches the nerves as Florence and Ken rekindle old feelings and old desires while they search for their lost son. But there is more than one elephant in the room as they struggle to understand their past. Meanwhile, Florence's brother is making life as difficult as he can and it is only by bringing Harry (Harriet) Lewis over from her home on the Isle of Man that Florence and Ken can begin to make sense of the mutitude of problems that beset them. But Harry has her own issues to deal with.
WEB OF TANGLED BLOOD
The heat of the sun had died a little as Florence and Ken set off for Montmartre, the highest point in Paris. Florence had suggested they get out of the apartment for an hour for some fresh air. "Clear the fug of wine," she had said as she put the empty bottle into the bin for glass recycling.

It was like a village within a city and, at the beginning of the twentieth century, many well-known artists had studios or worked in or around Montmartre. People like Salvador Dalí, Modigliani, Monet, Toulouse-Lautrec, Mondrian, Picasso, and Vincent van Gogh. Little wonder that it had become a magnet for today's 'bobos' – bourgeois bohemians. These were the caviar socialists who wanted to be seen to 'feel' the hardships of the working classes. They could never pull it off, of course, because everybody knew they were today's affluent yuppies. You had to be, to be able to afford to live in the Montmartre 'village'.

Despite it being a tourist trap, there was a certain welcoming atmosphere to Montmartre. It didn't take long to get there in Florence's red Mini Cabriolet. She found a parking spot at the foot of the hill and dived into it before anybody else could grab it. Then they took the funiculaire, the little cable railway, up the steep slope to the top. Facing them was the white basilica of the Sacré Cœur. It was an ornate building which, in style, would have been more suited to Red Square in Moscow. It was a building that Florence disliked, nicknaming it 'The Wedding Cake'. So she turned her back to it and stood at the top of the steps, staring out over Paris.

"I love the view from up here," she said. "It's like you can see Paris with its pants down."

"You like seeing things with their pants down don't you?" Ken said, smiling.

Florence huffed and shielded her eyes from the sun, which was just beginning it's long downward trajectory in the West. The water on the river Seine looked as thought it was stationary from up here. The late afternoon sun stretched its sparkly fingers across the long, twisting ribbon of water with promises of more good weather to come. A good day for friends, wine and lunches on the terraces of the brasseries.

Standing behind her, Ken rested his hands on her shoulders. He lowered his head so his line of sight was level with hers. Their cheeks touched. Florence was aware of their closeness and found it difficult to concentrate. She pointed to the Eiffel Tower but was thinking that, if she leaned back, her head would be in the crook of his shoulder.

Ken continued to point out various landmarks, seemingly oblivious to the intimacy of their bodies. "If you look this way," he said, leaning in and turning her body, "you can see that bloody awful Pompidou Centre. And over there, there's Montparnasse Tower; another monstrosity that blights Paris. But when you block those out of your mind and take in the whole vista, you've got to admit that Baron Haussmann made a damn good job of redesigning and rebuilding the city."

For several minutes, they stood together admiring the view, saying nothing. Florence was enjoying being in such close proximity to Ken, who had one hand raised to shield his eyes from the startling reflection of the sun. The last time they had been so intimately connected was the day before Tristan had disappeared.

As Florence turned to face him, Ken took a small step back as if to distance himself from her. "Shall we grab a coffee?" he asked, as if realising that he had broken his own self-defined personal space. "As I remember there are loads of cafes in the streets behind the church."
She nodded and followed as Ken marched off without her.
Book cover design by Bruno Cavellec, Copyright © Bruno Cavellec 2017.
Image used and published according to the licence granted by the artist