Flint – 'The Island Connection #11'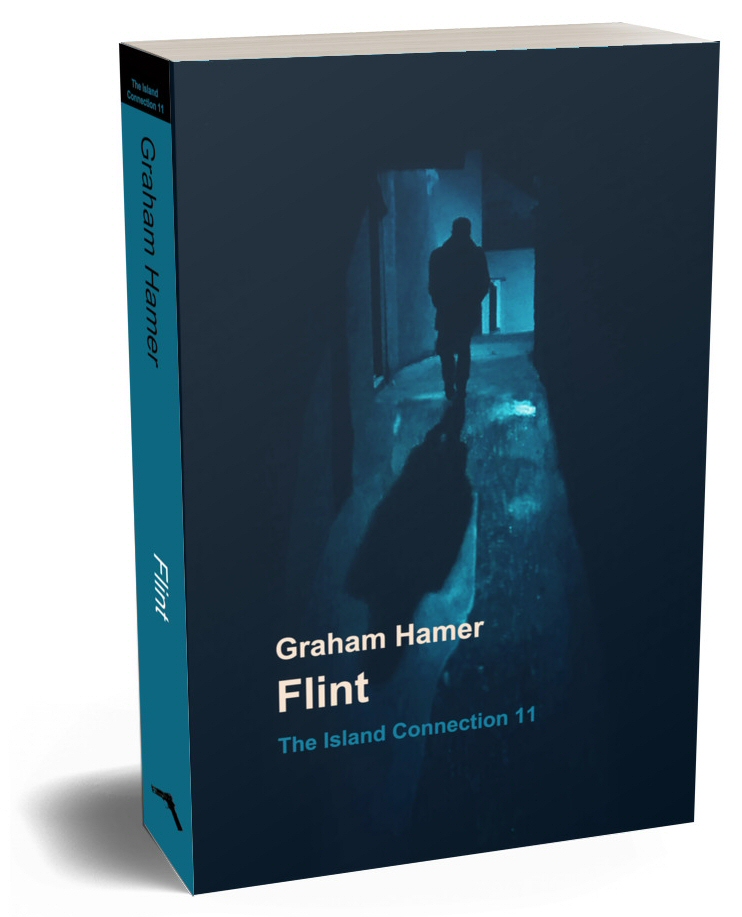 Flint is killing women in the most horrific manner. But who is Flint? And how can he be stopped? Meanwhile a new Detective Chief Inspector is appointed at police headquarters, but there's something about him that is wrong – very wrong. Detective Inspector Mick Duckworth turned down the promotion after the retirement of Angus Slooth, and now he's beginning to regret it. And Hjalmar, D.S.Penny Chakyar's partner, finds that his past has come back to haunt him, though Penny is the victim.

FLINT
Flint hesitated. This woman was showing him some respect. But the voices in his head rose up and stirred him back into the moment. "Remember the hamster?" they asked. "You were only nine, but you were so brave. The knife is your friend, Flint. Do it. Do it now!"
With glassy eyes, Flint nodded to Rolien. "Sure. I'll leave now. But not before this —" He again grabbed her face and, with the other hand, he pushed the cheap stainless steel knife with one rapid move through her eye and deep into her brain. She didn't struggle. It was too late for that. Her death was instant. That was Flint's version of showing mercy. Just like he'd shown mercy to his stinking hamster after he had cut its legs off and slit its belly open.
He stared at his gloved hand. The fingers were covered in a vitreous gel from inside her eye. In a long, slow movement, he stood up and stared down at her. She'd been a stunning, pretty lady half an hour earlier. But now the pierced eyeball had turned her into a hideous caricature of her former self. Her mouth was wide open in a scream that nobody would ever hear – like a real-life version of Edvard Munch's famous painting. Flint breathed a deep sigh and shrugged. "Sorry, lady, it was nothing personal. You're just a means to an end."
He'd just killed an innocent woman and he wasn't sure how he felt. No question that guilt was in the mix since this woman had done nothing to harm him. But he had a strange feeling of utter detachment, as though the body lying there was nothing to do with him. Just like he had with the hamster, and the cat, when he was younger. Rolien van der Laan was just a tool in his quest to show The Bitch that she was unworthy. And the information he had gleaned from her could prove useful in that quest. At best it would cause one of them a great deal of embarrassment. At least it would provide some unexpected fuel for the fires of misdirection. No good offering all his best clues on a plate. Let the police work for it. They would get there in the end. Of that he was certain. That was the whole point.
Keeping his gloves on, Flint removed a coin from the polythene bag. He placed it in the woman's open mouth under her tongue. Then he took a foldable utility knife from the bag. It was a Promithi, designed for outdoors use. Razor sharp and the preferred knife of many campers and hikers, the blade was a fraction under three inches, making it legal in the UK. He pulled open the blade and carved a letter 'V' in Rolien's cheek. The knife sliced through her flesh like a well honed scalpel, leaving the 'V' like a flap. 'V' for victory, or vengeance, or vendetta, he thought. Now, she looked even more grotesque. He rolled off the gloves and dropped them into the bag, along with the knife. The gloves he would dump. The knife, he would wash and use again.
Flint reached inside his leather jacket and withdrew another small polythene bag. Inside was a paperback book that he laid on the lifeless body. He pulled his cell phone from his pocket and took several photos of Rolien van der Laan's face from different angles. He sniffed. He could smell himself – his sweat and his excitement. He didn't like smelling of sweat. A long shower would soon cure that.
He pushed the polythene baggy into his jeans pocket as he left the building, taking care to leave no prints. He wasn't ready for them to trace him – not yet. The voices in his head spoke up again. "See, that wasn't so bad," they said. "Quick and easy, just like we said."
Book cover design by Bruno Cavellec, Copyright © Bruno Cavellec 2019.
Image used and published according to the licence granted by the artist