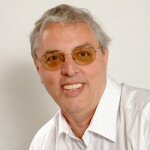 If you want to know about me, you need to go back all the way to the evening of January 5, 1949 when my mum was removed from a church "potato" evening (rationing was still in place after the war) and taken to the Jane Crookall Maternity Home in Douglas on the Isle of Man. At 7:30am on the morning of January 6, 1949 I was born (feet first) rubbing shoulders with the Gibb brothers. They became known as The BeeGees and I became known as The Spud Baby!
At the time, my father was vicar of Laxey on "the island" but moved to Tipton in the West Midlands before I had a chance to celebrate my first birthday. After six years in Tipton we moved back to the Isle of Man (it has that effect on people) and lived in Douglas, the capital, until 1965 when wanderlust hit my father again and we moved to Norfolk on the 'big island'. In 1969 my parents again moved back to the Isle of Man (this time, they stayed!) but I continued my life in Norfolk until 1993 when the lousy weather, a punitive tax system and a worn out marriage led me to up sticks and head for new frontiers and new challenges.
Midlife crisis? Yeah – maybe – I was 44 at the time, but I've never regretted moving on: my sons were 23 and 19 and well past needing their dad to change their nappies! After a six month spell in Kuwait (long story!), I found myself in France where I bumped into a lady who has since adopted me and now keeps me on the straight and narrow (or that's what I let her think!). While we are fiercely different characters and clash like Titans from time-to-time, she is my best buddy, my soul mate, and I can't imagine life without her. (She's a doctor, so you'll recognise her in the books!)
During our 20+ years together, Marie-Danielle and I spent about 4 years just seeing each other at weekends as she worked in Bruxelles and I worked near Amsterdam in The Netherlands. We eventually came back to France and now we have both settled into 'retirement' where we spend about 6 months of the year sampling the wines and cuisine of France and the other six months having fun on the Isle of Man.
During my time in Norfolk and Kuwait, I variously worked as book-keeper, accountant, database developer, architect, builder and pig-herder. France and The Netherlands, kept me amused as a business analyst for an American corporation. And then I met the internet and became hooked! So I spent the last four years of my 'working life' as an "internet guru" (don't you just love that dreadful phrase!) helping others to make use of this amazing technology. Now, I just have a couple of directory websites plus my "baby" – NeedARecipe.com. Yep – I'm a foodie every time I get the chance.
They say that we all have a book in us, and I always knew what my book would be about. During my time as a builder in Norfolk, I was royally done over by a man with no scruples who was more street-wise than me (he'd done it all before). It cost me dear and was a hard lesson to learn, but it also had the makings of a story (with embellishments and lots of additional material) so, during 1999 and 2000 with evenings to myself while my wife and I were separated by 200km of Dutch and Belgian autoroute, I put together my first tome, Chasing Paper; which was published in hard print and was still in print ten years later.
The second of The Manx Connection books, Walking on Water was penned shortly after Chasing Paper, but then the manuscript sat collecting dust for over ten years as I got on with other things. Eventually, in 2014, I dusted it down and revised it, and it is now published in 'e' format.
I'd grown to like many of the characters from the first two books, so the third of The Manx Connection books, Under the Rock followed very quickly, and some of my imaginary friends came back out to play! But two of these friends took on a special life of their own and virtually wrote the fourth book, Out of the Window, on their own without me telling them what to do.
On whom the axe falls, the fifth book in the series examines a different aspect of life and a different aspect of the Isle of Man, which is an island that wallows in magic, myth and legend like a hippo wallows in a mud bath. And maybe, just maybe, one of our well known characters will find romance!
In the sixth book in the series, China in Her Hand, we explore personal relationships, many of which are still taboo to some people. Our main characters are two strong women who work together to overcome an old enemy. But they have a little help from an unusual source.
Devil's Helmet is the seventh book in the 'Manx Connection' series. A disgruntled army Colonel threatens the island with the most toxic chemical agent ever synthesized. But worse is yet to come as an even more dangerous threat becomes apparent. The Devil's Helmet is the code name for a toxin that is so lethal it could wipe out the whole population of the Isle of Man. And the man who is going to release it is never what he seems.
After Devil's Helmet, we take a break in pace and watch as Sarah and her new police partner are whisked away to The Dordogne area of France. The Vicar's Lot follows a character who has made a couple of brief appearances in previous books but who has remained a somewhat enigmatic force. The Dordogne becomes a killing ground when The Vicar turns up. But is that a bad thing?
Meanwhile, the beauty of the Isle of Man still captures me every time I go back, so I am already working on the ninth 'Manx Connection' book (where we are back on The Isle ofMan). My wife and I are lucky people: we take the best from two different countries and two different cultures and meld it to suit our chosen lifestyle. Long may that continue!