CHASING PAPER
NOTE: Chasing Paper is FREE in e-book format.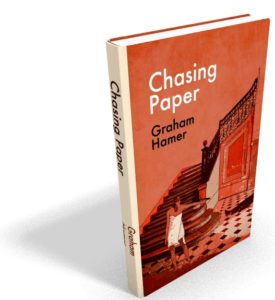 Chasing Paper came about because, way back in the early 1980's I was running a building company in Norfolk, England. I won't bore you with the details but, not to put too fine a point on it, my partner screwed me over for more than £25,000 ($40,000) – about £75,000 ($120,000) in today's money. Looking back, I have nobody to blame but myself: I trusted him and he grabbed the opportunity to save his own business at my expense. It left a nasty, bitter taste in the mouth, but my lesson was learned and I never again placed that amount of trust in any business partner!

What I did do, though, was to write Chasing Paper twenty years later because it was both catharcic and also it had the makings of a good plot. Naturally, I had to embellish the story and then take the main character much further than anything I had ever experienced myself, but I guess that's what lots of writers do…
CHASING PAPER
"I started at five, but Tweedle didn't even move – got to four, and he just pulled on his fag – three, and he blew smoke at me – two, and his eyes lit up, like the cavalry had come over the hill – one and the bloody lights went out."

"What? You mean someone turned them out?"

"Not quite, this bastard woman chucked a rug over my head and just took the gun away, calm as you like."

"What bastard woman?" Dave asked, wide eyed.

Ian laughed, but it was a moping laugh of resignation. "No idea who she was, old son. Tall bird. Legs right up to her bum. When I got the rug off my head, she just stood there, behind me, bollock naked and pointing your gun in my face."

"Bollock naked?"

"Bollock naked. She was a good-looker, I can tell you. Mid twenties, long dark hair, good tits, slim."

"And pointing a Browning in your face."

"Exactly."

"And then what? Why didn't she call the police or whatever?"

"I've no idea, old mate. She even knew who I was – called me Ian, straight away."

"What did she say to you? What did Tweedle do?"

"Tweedle sat calmly watching everything. It was like he was in a dream. Didn't say a single word – just had a silly grin on his face. The girl took the syringe off him and put it on the table."

"Are you sure he wasn't drunk?"

Ian drained his glass, savouring the taste and smell of the hops. "Fairly certain. It was something else, Dave. I thought about it afterwards and wondered if it was drugs."

"What? Tweedle?"

"Well, when Snaefell Homes collapsed, and Sean put pressure on him, it was because he'd found out that Tweedle was buying drugs from George Riley. Sean threatened Tweedle that he'd shop him to the police."

"What? George Riley as in… er… George Riley?"

"The same. Anyway, Sean didn't think that Tweedle was buying them for himself, but maybe he was wrong – maybe he was. I'd always assumed they were for Ron Scott, but I'm beginning to wonder now."

"Jesus, boss, what an evening. Do you want another pint?"

Ian straightened his shoulders, which had become hunched during the conversation. He tried to straighten his thoughts, but couldn't. "Yeah, go on, why not?"

A great can't put it down read. I wished that I was on holiday so that I could read it without interruption!
By Amazon Customer on 23 July 2016
I loved this book and couldn't wait to read the next in the series. The characters are hugely likeable (Ian) and delightfully despicable (Tweedle) making them feel both real and lasting presences long after the book is read. Its great when you find an author, who's voice you really like, and when you look for another book by them you find that there it is already waiting for you. And not just one more…..

It will keep you guessing till the end
By mousyb on 22 August 2016
This thrilling story hooked me. This novel is almost a film synopsis: places and situations are accurately and humourously described; and the characters come to life under your eyes. The end totally caught me by surprise.
Book cover design by Bruno Cavellec, Copyright © Bruno Cavellec 2016.
Image used and published according to the licence granted by the artist