Tommy Gee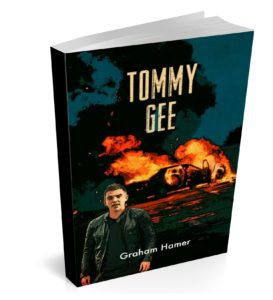 Tommy Gee's decision to spend a long weekend visiting his mother in King's Lynn, on England's east coast, leaves behind eight dead bodies and a suicide. Not that they were all Tommy's fault, but he seems to be a magnet for chaos and the unpredictable. Add to the mix, Tommy's sultry pickpocket sister and his gangly deranged half-brother, and you have the recipe for a frenzied few days. When two Romanian mafia bosses are stirred into the melting pot, along with a sexy bank employee with a cunning plan, things are likely to move from complicated to dangerous before you can turn the page.

But Tommy Gee has never been one to worry too much about risks. Accompanied by Muffin, his chocolate-coloured Labrador whose only purpose in life is to find misplaced burgers or unwanted pork scratchings, Tommy Gee's long weekend finds him hanging upside-down in his burning car. Yet we shouldn't be surprised at that. Tommy Gee is, after all, a professional blaster.
TOMMY GEE

Tommy shouted, "I'm out of here!" and ran towards his Jeep. He started the engine, stalled it, started it again, and began to drive away.

Ruth shouted, "Listen, Sandi, it's not what it looks like."

But Sandi wasn't listening. She had already dived back into her car and was chasing after Tommy. Ruth jumped in front of her, still trying to explain it was all a trick. Sandi ran her down and left her lying face down on the ground, groaning and cl ankle.

Tommy was crunching the gears and trying to get out of second. It seemed like he'd suddenly forgotten how to drive. Sandi caught him almost immediately. As they neared the gate, she rammed the back of the Jeep and was surprised as it tipped over and flipped onto its roof. She jumped from her car and ran to the other vehicle. Tommy was hanging upside down, held fast by his seatbelt. Flames began to leap from the back of the vehicle. "Christ, get me out of here," he screamed.

Sandi stared at him. "Where's the money?"

"It's in a car in the scrap yard. Get me out of here before this bloody thing explodes."

"What car?"

"Look, help me get out and I'll tell you."

"You'll tell me first, you arsehole. You and that bitch back there have been double-crossing everyone."

"It was nothing personal, honest. It was just to get the mob off our backs." Tommy glanced behind him. "Just help me out of here and I'll tell you where the money is. For Christ's sake cut me free or something."

"Sandi crossed her arms and stared at him. "You know what? You can fucking burn for all I care."

The flames were spreading and Tommy looked behind him again in desperation. "Yeah, okay, the money's in a blue Mercedes."

"No it's not, you lying scum. I already know you moved it from there. You and your scheming girlfriend back there. Planning to fuck off to Toronto, were you?"

Tommy winced as the flames grew. "Okay, okay, it's in the red Nissan right next to the fence where I was parked. You can get into the scrap yard through the gate ten metres further up. Now please get me out of here."

Sandi grinned at him.

"I promise, I'm telling the truth this time. For God's sake get me out. I'm going to burn to death."

"That's right, mister. You're going to burn to death. Goodbye." Sandi turned and walked away.

Tommy screamed. "Hey. No. For Christ's sake no. Come back. I'm telling the truth. I didn't want anyone to get hurt. I don't know you, why would I hurt you? This was all Ruth's idea, not mine. Please!"

"Yeah, that's what I figured," Sandi muttered. She walked back a few steps, reached into her car, pulled out her baseball bat, and kept walking.
Book cover design by Bruno Cavellec, Copyright © Bruno Cavellec 2018.
Image used and published according to the licence granted by the artist