China in her Hand -'The Island Connection 4'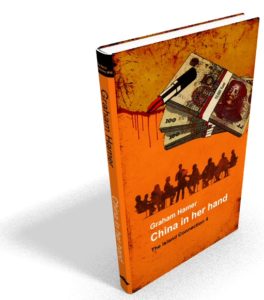 China in Her hand explores unconventional personal relationships in an unusual situation. The story is about revenge and what happens when two strong-minded women join together to punish the man who has harmed them. Sparks can fly, particularly when the man has no idea he is being punished… until it's too late. But interwoven into the fabric of the story we look at the very essence of love and hate. For many, there will be questions about morality and a social underworld that they know nothing about. But this is the twenty-first century and it's time to put old prejudices behind you.
CHINA IN HER HAND
Ambrose Carson studied every detail in the file with care. He'd gone through it many times before, but the feeling that he was missing something still nagged at him from time to time. Suyin had disclosed her full background to him and Ambrose had had it checked out independently. After all, you don't go investing a lifetime's work into one project unless you are one hundred percent sure that the person who introduced you to it was whiter than white. He'd used his own choice of investigators based in Hong Kong, which is where Suyin said she came from. Suyin had shown him how to find them on the internet and he'd chosen an investigation agency at random from the top ten Google search results in the territory. A few details were missing from the report that they eventually supplied, so he'd had those details checked out by another of the top ten companies and, sure enough, everything came back just as Suyin had stated.
That she was born and raised in Hong Kong then educated in Britain, gaining a DPhil in Economics at Oxford was beyond question. Fifteen years ago, the Doctorate had been known as a PhD, and that fact had been noted on the file. In the file there were even copies of the thesis she had written for her PhD. There were photographs of her at university and school photographs, too, of her growing up in Hong Kong. What had been more difficult to substantiate was that she had been mentored by one of mainland China's biggest industrial bosses, eventually becoming his investment advisor. Getting information out of mainland China was like trying to get melting butter out of the holes in a hot crumpet. You could squeeze and poke and get a little bit, but you could never extract it cleanly in one swoop. However, between them, his chosen investigation agencies had come up with a picture that fully supported what Suyin had already told him.
Ambrose shrugged and closed the file, placed it back in his desk drawer, and locked it. As he turned the key, his phone rang.

5 out of 5 starsThe best of the series yet
By Penny on 9 Aug. 2016
Read it in 2 days! The best of the series yet.
Totally believable characters with good references to the Isle of Man.   

Outstanding characterisation
By mousyb on 20 Oct. 2016
A thoroughly enjoyable novel in the Manx Connection series.
'China in her hand' is plot-driven but the outstanding thing for me was the way that the male author successfully created three wholly believable female characters, empathising with them in a way that most male authors would struggle to do.
A wholly believable story with some unexpected twists and turns to keep the reader guessing.
Book cover design by Bruno Cavellec, Copyright © Bruno Cavellec 2016.
Image used and published according to the licence granted by the artist