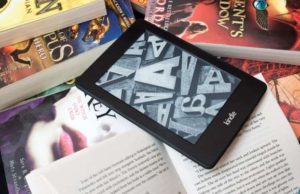 Self-Publishing has become the new way forward for new authors. The world of publishing can be extremely competitive, with somewhere between 600,000 and 1,000,000 books published every year in the US alone. It's estimated that around half of those are self-published and sell fewer than 250 copies. But a successful self-publish can make a lot of money.
Self-publishing has been around for decades. Professional writers and amateurs have often resorted to putting their own books out. Either because conventional publishers weren't interested or as a way to retain editorial control. But when e-readers, such as Amazon's Kindle, exploded in popularity in the mid-2000s, self-publishing became big business.
There are many online platforms to self-publish, and authors find the speediness and ease of use appealing. Books can be available for download in as little as 24 hours from when they are uploaded. The royalties are also appealing, with self-publishers getting up to 70% of the profits of their labour. That compares to just 10% on average in conventional publishing. Authors do have to do their own marketing legwork though, and that can be what propels an e-book to the top of the charts.
Self-Publishing success stories
Arguably the most well-known self-publisher ever, Erika Mitchell had never written a word before 2009 when she joined a fan-fiction website for admirers of the Twilight saga. The then-studio manager from High Wycombe, England, became enthralled with the possibilities writing offered her. She decided to take her fan-fiction one step further. She self-published 50 Shades of Grey under the nom-de-plume E. L. James, and it was an instant online success.
Two more books followed in rapid succession. Before long, the 50 Shades trilogy was picked up by Vintage Books (a conventional publisher). By 2013 Mitchell was a multi-millionaire. Her three-book series was universally panned by critics, but made her $95 million (£74 million), $5 million (£3.9 million) of which came from the three-movie option rights bought by a Hollywood studio. Drawing on her background in film and TV, James is credited as a producer on the film adaptions of her books.