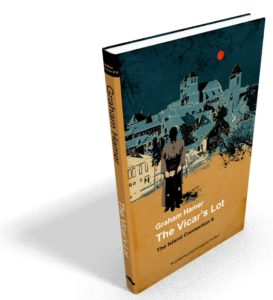 The Vicar's Lot, though part of The Island Connection series, takes place in the Dordogne region of France. The main players in the story, however, were created in the Island Connection books and we also see a new character who will play an important role in future Island Connection stories.
Vicar's Lot – a play on words
In South West France, The Dordogne department is next to the Lot, one of the original 83 departments created during the French Revolution. The Lot was created from part of the province of Quercy. The Lot is part of the region of Occitanie and is surrounded by the departments of Corrèze, Cantal, Aveyron, Tarn-et-Garonne, Lot-et-Garonne, and Dordogne. The action in The Vicar's Lot takes place in Gourdon – a medieval hilltop town with a well preserved centre. There are many prehistoric painted caves nearby, notably the Grottes de Cougnac. Gourdon is also a sub-prefecture of the department. So, The Vicar's Lot refers both to the difficult burden carried b y The Vicar, and also the region where the story is based.
Vicar's Lot – Understanding The Vicar
As a character, The Vicar (an ordained clergyman turned professional killer) was first introduced in Out of The Window. He played a more significant role in China in Her Hand and Devil's Helmet. He makes a return visit to the Isle of Man in The Platinum Pirate.
Vicar's Lot – The Vicar's afliction to pain.
The Vicar is a single-minded man with a purpose. He has short steel-grey hair, clear hazel eyes and perfect white teeth. His clothes are exclusively tailored but simple – usually a dark grey suit, a plain blue shirt and a pair of hard-wearing leather slip-ons. And he has the Lord on his side, which gives him an edge over anybody else. When on a job, The Vicar always wears gloves because he suffers from Congenital Insensitivity to Pain, also known as congenital analgesia – a rare condition in which a person cannot feel physical pain. They don't know what pain is. The Vicar never flinches or withdraws when exposed to pain, for no other reason than the fact he doesn't feel it. He can still feel discriminative touch and he thinks he knows what pain is because the doctors of his youth had tried to describe it to him. But, when hit, or when hitting, he feels nothing that disturbs him, and for that reason sensible precautions against damaged hands are a necessity rather than a luxury.
A curious and complex character, I'm sure you'll agree and here's your change to get to know him better.