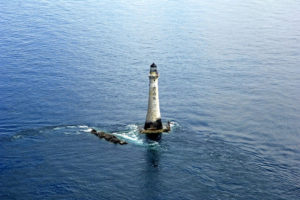 Chicken Rock Lighthouse, though only one and a half miles from land, is surely one of the most desolate places on the planet. And that's why I chose it for my book named afetr it… Chicken Rock. This rock is a tiny isolated island at the southern end of the Isle of Man. It stands in water over forty metres deep. And in this part of the Irish Sea, there are unpredictable tidal flows created by the enormous amounts of sea water circumnavigating the Calf of Man – and one mile square island at the southern end of the Isle of Man. Even at slack tide, the immense flows of water round Chicken Rock can produce surfable and gnarly waves. And at high tide, the rock is completely covered by water, leaving the lighthouse standing up directly out of the sea.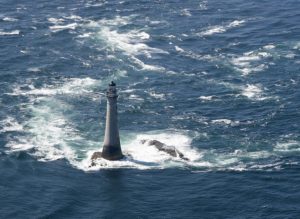 Completed in 1874, the 44-metre-high (144 ft) tower of Chicken Rock Lighthouse is constructed of tapered granite and was designed by David and Thomas Stevenson. The need for the light on Chicken Rock was identified as early as 1866, due to the problem of fog obscuring the two lights on the nearby Calf of Man, hindering safe passage through the North Channel between Scotland and Ireland. Approval to start work on the lighthouse was given in 1868. Constructed of granite blocks forming a tapered tower, with a lantern room and single gallery, it was designed by the two brothers, David and Thomas of the Stevenson lighthouse engineering family. At the same time as overseeing this project, they were also involved in the building of the lighthouse on Dubh Artach in Scotland. Construction finished in December 1874, with the first official lighting day taking place on 1 January 1875. The total cost was £64,559 (equivalent to £5,484,906 as of 2015).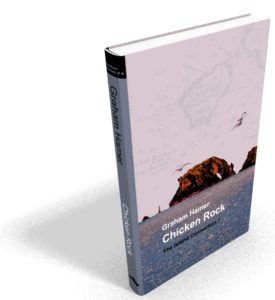 The Irish Sea is cold, swarms with stinging Lion's Mane and Portuguese Man o' War jellies. To add to its ruthless reputation, there's an amphidromic point just south of the Isle of Man, around Chicken Rock, which is rife with some of the most dangerous and violent sea currents in the world. And here are the problems posed in the book. First, how did a dead body end up there. Second how do you get off if you are stranded there!